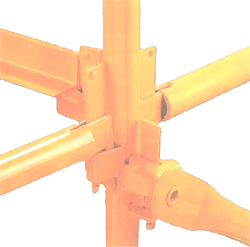 Courses run monthly!
The Scaffold Tool & Training Company conducts its 5 day Basic Scaffold Training Courses normally two or three times per month (or by arrangement) at our training facility located at:
17 Northern Ave
Moorabbin Airport, Victoria
Course Code: CPCCLSF2001
Price: $1,200
View Training Calendar
A basic scaffold ticket is required to erect any modular system where a person or object could fall more than 4.0 metres.
A basic scaffolding ticket enables a person to erect, alter and dismantle any modular or prefabricated scaffold system, e.g. aluminium mobiles, steel modular, Kwikstage and Cuplock.
The maximum height a scaffolder with a Basic Ticket may build a modular scaffold would be the maximum height as specified by the manufacturer of the particular scaffold being used.
Topics covered in our Basic Scaffolding course include:
All Basic scaffolding knowledge questions
Calculating loads
Component defects
Erection and dismantle skills
Estimating equipment
Fall protection
Fibre ropes, splicing, bends & hitches
Hazards and planning
Industrial safety nets
Inspection of equipment
Legislative requirements
Materials hoists
Ropes and gin wheels
Scaffold construction – steel and aluminium
Scaffold inspection
Screening or containment
Static lines
Tie construction
As one person cannot safely erect a scaffold, a prerequisite of WorkSafe is that a minimum of 3 students is required for the course to go ahead.
Trainees must be over 18 years of age.
A $200 deposit is payable in advance to confirm your booking, then the balance is payable before completing the course.
Your High Risk Licence is recognised nationally, we are WorkSafe and Australian Quality Training Framework (AQTF) compliant and are a Registered Training Office (RTO).
Once a course is completed your Notice of Assessment must be lodged at a Victorian Post Office within 60 days at cost of $64.00. This assessment summary then forms your interim ticket until your licence arrives in the mail.
Course duration is a minimum of 4 days (depending on your experience)
Course starts at 7.45am
Attendees: minimum 3, maximum 9
Cost includes tool belt, tools, hard hat, gloves and safety vest for the duration of the course.
Coffee, tea and biscuits (but not lunch)
Dress: casual, work boots preferred or covered in shoes
Nationally recognised ticket
Friendly, practical learning environments – by tradesmen for tradesmen